18907 10/5/12
BARREL CARRIAGE CHEEKS TOOLS LOADING ENGRAVING
Mtn Howitzer Barrel
...by: Buck Stix
***************************************************
We retired the old, and purchased a NEW ...
... "Naval Gun Bronze" Mountain Howitzer Barrel.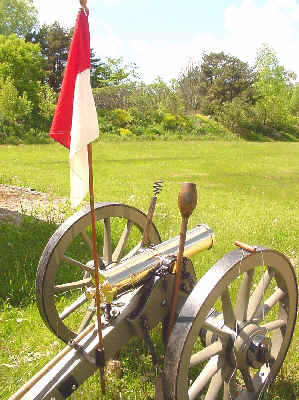 We purchased it from the Best in the industry.
STEEN CANNONS
3409-13th Street
Ashland, KY 41102
606-326-1188
606-329-2477
Fax-606-326-1049
Why did we purchase a Naval Gun Bronze barrel from Steen Cannons? Look at these Specs.
***************************************************
STEEN CANNONS Model 1835 12-Pdr. Mountain Howitzer (Bronze) (Cast in Naval Gun Bronze) Cast Solid, Vertically, Machine bored and honed, Fully machined to Mordecai pattern, Trunnions Fully machined, Barrel X-Rayed for proof, Threaded Copper Vent installed, all exact markings are with original fonts. With reduced Chamber to Customers Specs.
STEEN CANNONS' President Marshall Steen, even let us specify our modernized "Buck Stix" chamber dimensions. Although Mordecai's specifications are standard for the Mountain Howitzer, modern powders and methods dictate an upgrade in chamber dimension. Just like our original custom designed Steel Barrel, our newly purchased STEEN CANNONS Bronze Mountain Howitzer barrel has an inside chamber size that is slightly reduced from that of the original 1835 chamber size.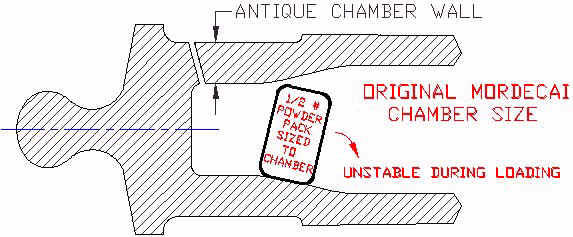 Instead of a 3.40" dia. chamber, we specified a smaller 2.60" dia. chamber. This smaller size takes into account that modern powder charges are not wrapped in bulky flannel or cotton bags like the original powder charges were. This reduced chamber size also provides for a 25% increase in wall thickness, and more reliable loading since the powder pack is less likely to tip-over when inserted.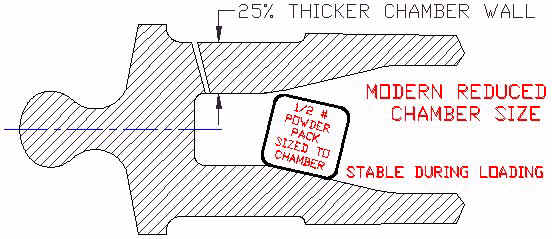 STEEN CANNONS was started in early 1993 by Marshall Steen, a Civil War enthusiast since 1967. Marshall is a member of the First Independent Battery of Kentucky-Light Artillery so he knows first hand what artilleryman want. STEEN CANNONS' goal is to provide customers with full scale authentic reproductions of original pieces that can be used either for decorative purposes or as fully operable firing pieces. Their cannons are manufactured from specifications of artillery for the Land Services of the United States. Marshall Steen has been in service oriented businesses all of his life and he knows that service, quality of workmanship, and communication is the life line of a successful operation.
STEEN CANNONS guarantees that their Barrels meet the Highest Standard in the industry and are finished with the Highest Grade products available. So, that's why we chose STEEN CANNONS.
***************************************************
I placed my order for a Naval Gun Bronze Mountain Howitzer Barrel on May 6th. I explained to owner Marshall Steen that I wanted a Naval Gun Bronze barrel. But, through some unusual, uncontrollable circumstances, I had sold my steel barrel first, and now had only an empty carriage.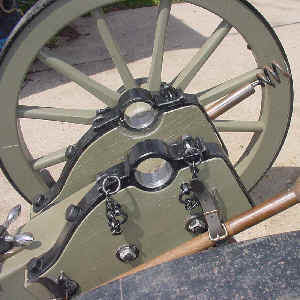 I asked if it was possible to get a "Rush-Order" Naval Gun Bronze Mountain Howitzer Barrel. Marshall Steen said he would do his "very best" to get me one as soon as possible. And, only 20 days after I ordered it, I was on my way to Ashland, Kentucky to pick up my Bronze Barrel. When I arrived it wasn't completely finished, but it was in the final stages and I was able to witness first hand the craftsmanship of the process.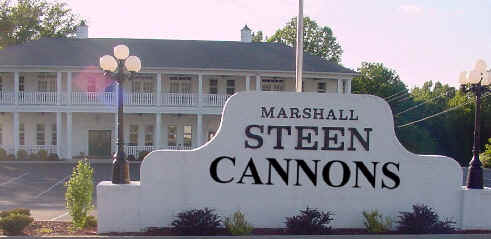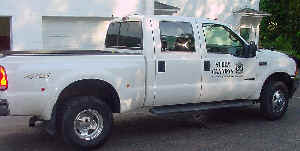 The process went like this. The Barrel was vertically cast at the foundry on Monday May 9th, and was finish machined by the following Friday, May 20th. It was then X-rayed for proof, and upon successful completion of the inspection "X-Ray", the final finishing process was commenced on May 23rd. Today is May 26th, only 18 days from casting to final finishing. After the Barrel machining was completed, it still had lots of machining marks and lots of extra material surrounding the trunnion area. Marshall Steen finishes his Barrels in the old traditional way, by hand, in the exact same way cannon builders did it over a 150 years ago. Why? Quality! Many hours of hand shaping, hand sanding, hand grinding, and hand polishing, are required for the finishing of the Barrel. Marshall's highly skilled crew of cannon builders have many years of this type of hand crafting experience with Naval Gun Bronze Barrels.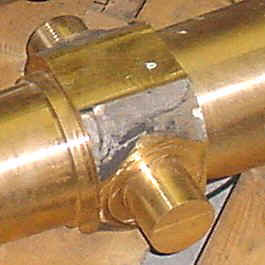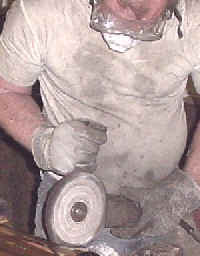 At this final stage, the Trunnion Saddles are finish shaped, and the Copper Lined Vent is installed.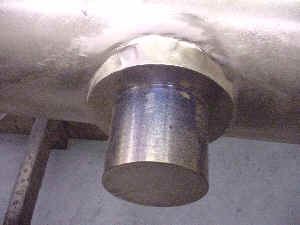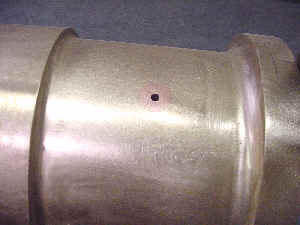 Then the next step, is the application of stampings. Marshall Steen does this delicate work himself.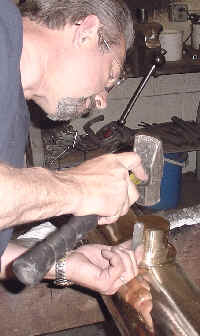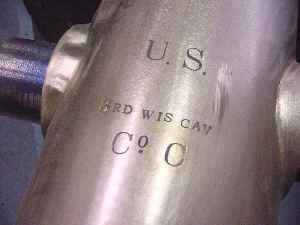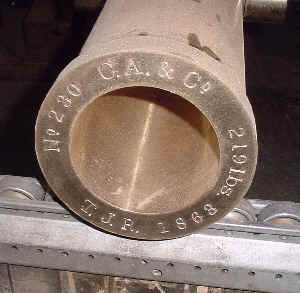 "Hand Grinding" and "Hand Sanding" requires an artistic eye to keep all surfaces smooth and true.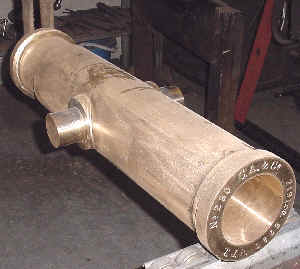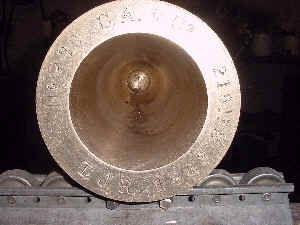 And then, finally, the Barrel gets an ultra high polish. This high polish is Marshall Steen's trademark. The mirror finish is near to a 4 micro-finish. This high polish brings out every little irregular wave and wiggle, and quickly shows each and every imperfection of the surface. All of these imperfections are hand sanded out, and the Barrel is high polished again. The process is repeated, over and over, again and again, as many times as may be required, until all of the imperfections have been removed. No machine can perform these tasks, it must be done by hand. The resultant mirror finish is flawless and nothing short of spectacular!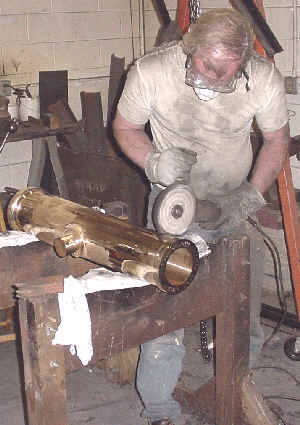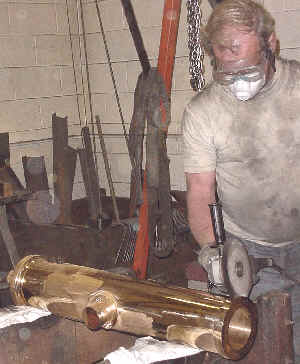 And when it's finally finished, and inspected, it gets Marshall Steen's personal stamp of quality, ... ... " His Name "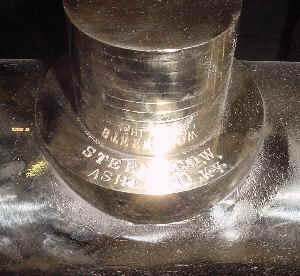 Look at that shine! ... I can see my car in the reflection, and its parked 2 blocks away!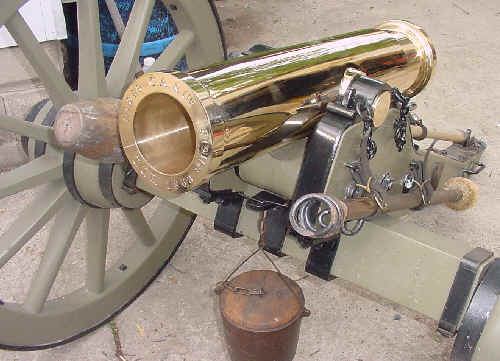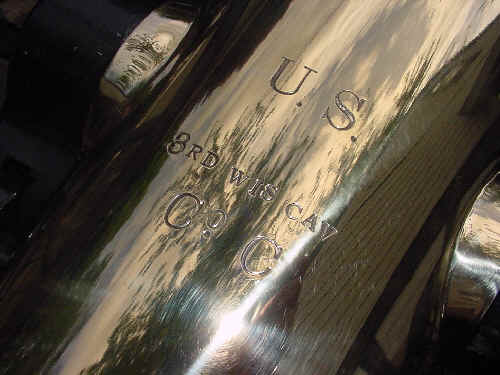 Finally my carriage has a Barrel again. A "Marshall Steen" Naval Gun Bronze Barrel.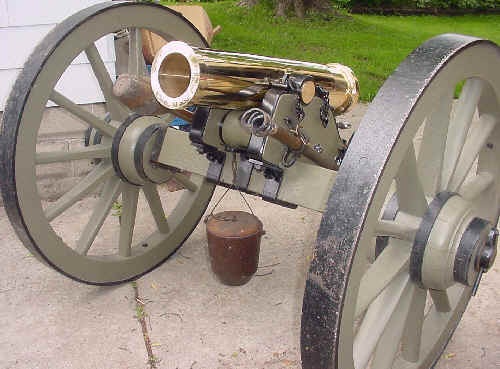 We bought a Naval Gun Bronze Mountain Howitzer Barrel
from STEEN CANNONS and are enjoying our summer.
***************************************************
CLICK BELOW FOR MORE PICTURES OF STEEN CANNONS' NAVAL GUN BRONZE MOUNTAIN HOWITZER BARREL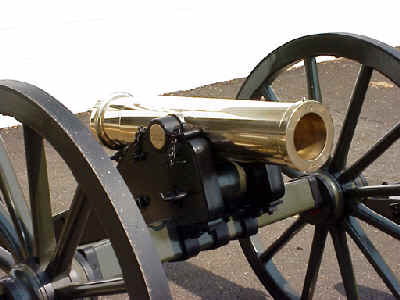 ANY QUESTIONS?? e-mail with questions BUCKSTIX@AOL.COM
***************************************************
Next see how we BUILT our own Coehorn Mortar >> MORTAR
Please feel free to circulate this to as many interested people as you like .... its time we started having some