Features.......

Bow Hunting. Removes human odor.

Deer Hunting. Makes you invisible.

Fishing soap. Rinse all your lures.

Trapping soap. Rinse your traps.

Camping soap. General clean-up.

Photography. See more game.

Fits in pocket. Handy dispenser.

Hunting Soap. Camo your odor!

ORDER YOURS TODAY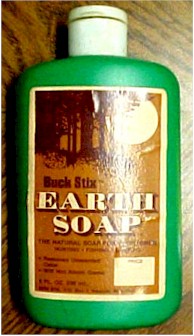 Special Blend smells exactly like "EARTH".

Use to wash hands, wash hair, or totally shower.

Use to wash your hunting clothes prior to going into the field.

Rinse Fishing lures in EARTH SOAP ™ to catch more fish.

8oz pocket size bottle, easy dispenser ....... $6.95.

1oz shirt pocket size, 2 bottle twin pack ....... $6.95.