BARREL CARRIAGE CHEEKS TOOLS LOADING ENGRAVING BRONZE BARREL
FOR SALE - BRONZE 12 LB MOUNTAIN HOWITZER BARREL
You may recall that about 12 years ago we upgraded from our fabricated steel barrel, to a Bronze Barrel from Steen Ordinance.
Well, we're upgrading again, this time to an Original 1863 Ames Co. Barrel - it will be installed into the carriage as soon as the Bronze Barrel sells.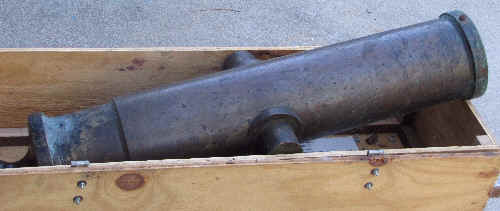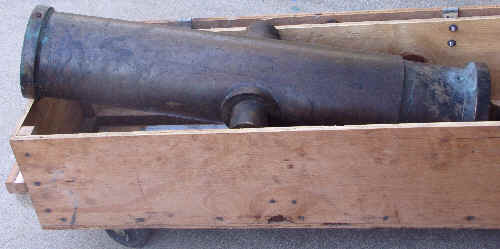 So, our Bronze Barrel is for sale --- email us << click here
You may recall all the steps in fabricating this Classic Bronze Barrel. The application of period correct stampings.
The "Hand Grinding" and "Hand Sanding" to make all surfaces smooth and true.
The ultra high polish applied to a 4 Micro-finish to bring out the resultant mirror finish that was flawless.
A Mirror shine that allowed seeing my car in the reflection, it was parked 2 blocks away.
All the markings are clear and crisp, and the patina of 12 years makes this Bronze Barrel "look original".
If you had a mind to do it, you could make it "shine" again like above.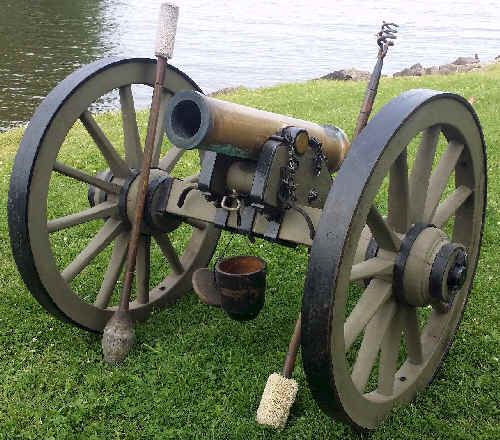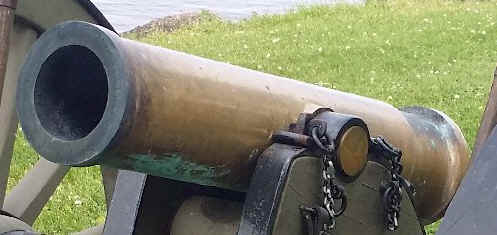 and now, also . . . . . . . . .
FOR SALE - MOUNTAIN HOWITZER No. 2 CARRIAGE
We also have for sale a No. 2 Carriage that is 90% complete
see Ebay listing for this Carriage - click the image below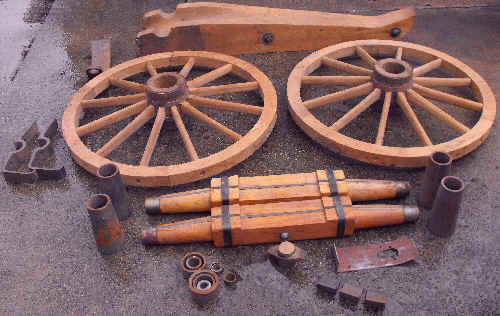 Here below is the Ebay description
These parts are for a FULL SIZE 12 Pound Mountain Howitzer Cannon No. 2 Carriage. This project was started back in the 1970's, but it was only 90% finished. Wheels are the correct 38" diameter. Trail is 60" long and finish shaped. White Oak. Axels are steel re-enforced through the center with 1/4" thick tapered steel bushings. There is a second axle with an extra set of steel bushings included for a future matching limber, Yellow Oak. Brass casting for elevating screw box. Steel Trail drag, and steel toe plate. Other small misc. hardware included; nails, eyelets, etc. There are dozens of blueprints and assembly drawings to finish this project. Some blueprints are Full-size patterns. About a dozen prints are mounted on paperboard that is folded in half to be spread open to view, ( 5 are shown folded open ) and re-folded to store. Some of the prints have sustained some water damage, but are still usable to complete this build. Local Pick-up is preferred but I will help to arrange shipping through Fastenall to a Fastenall in your area. However, making crates and shipping are extra at the buyers expense. Email with questions. Payment is expected with 2 days of auction end, do not wait for face-face to make payment. The buy-it-now is less than 1/2 of what a finished carriage would cost.